Today was a busy day around the NG0R QTH. We picked up groceries, then put on the second coat of paint in the new office/shack. (It is looking pretty nice!) Late this afternoon I finally got a chance to go visit the workbench. I had a box from
KangaUS
sitting there looking for some quality time.
Craig AA0ZZ
released the latest module for his PicEL board. It is a Si570 daughter card. I had the good luck of seeing a prototype at Craig's home about a year ago. I ordered two daughter cards and one control board. (They were here 3-4 days after placing the order.) My plan is to have one daughter card on the PicEL III board and then to have one standalone control board+daughter card for use over at the workbench.
For this afternoon I decided to focus on assembling one of daughter cards before the dinner bell.
There are three surface mount parts: 2 voltage regulators and the Si570.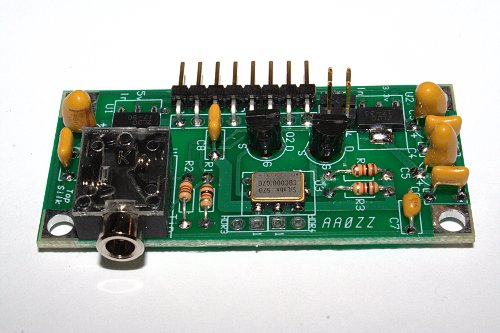 It takes about 30-45 minutes to put it together the first time as you read through the directions. The parts count is pretty low and there is plenty of space for the soldering iron.
I removed my 16F628 and dropped in the supplied 16F88 and programmed it without an issue. (On my Ubuntu workstation I have Windows XP running in a Virtualbox session and used the Pickit 2 loader with the PicEL III)
I took the PicEL III and Si570 daughter card back to the workbench and plugged it into my ancient oscilloscope and everything looked good. I then plugged the system into my spectrum analyzer. I noticed that the Si570 + FETs are harmonic rich but nothing that a simple lowpass or bandpass filter would not solve in a real world application.
I did notice that power level changes slightly over frequency. There is about 12dB difference at the low frequencies vs at the highest frequencies. (10MHz --> 157MHz)
Based upon my initial testing I am pretty impressed with the Si570 daughter card. I am looking forward to assembling the standalone control board and the additional daughter card in the up coming days.
I have three Si570 chips sitting on the shelf waiting for me to find some time to be able to figure out to write some code to make them do their thing. Craig's PicEL III + daughter card provides an excellent development platform to start working up some code prior to need to build my own standalone board for debugging some future projects.
http://cbjohn.com/aa0zz/index.html
http://www.kangaus.com/si570_project.htm
This was an enjoyable Sunday afternoon project.
73 de NG0R