In theory I am working the Sunday portion of the VHF contest. It is so quiet that even my voice keyer is tired. I spent more time on the phone today than I did making QSOs. (There are a few Q's today but it is pretty slow.) I started drawing out ideas for another radio project.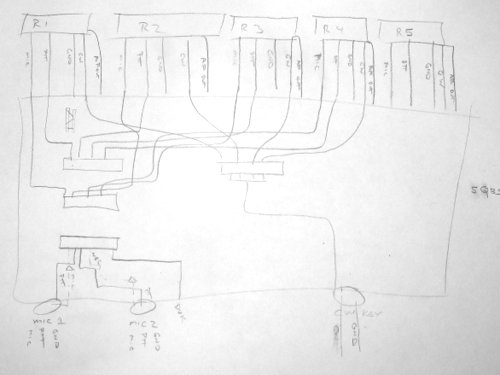 The picture is ugly and from my camera phone but that is not really what matters.
I am thinking of building a control box with the following features:
All for the selection of two different microphone connections (useful during a family station event or with two different types of mics like a headset/boom or headset/handmic)
Select 1 of 4 radios as the target for the microphone and AF signals
Select 1 of 4 radios as the target of the CW keyer source
OPAMPs for the microphone signal going to each radio (each radio can have adjustable mic levels)
OPAMPs for each microphone input
Built voice keyer using a micro SDHC card (record it on the PC, play it on the DVK)
RJ45 connectors on the back of the box (use RJ45-->8pin cables)
header pin jumpers to allow for different pin connections for different radios
I will likely use an Arduino for the prototyping. I was looking at relays and solid-state relays but N0FP suggested using CD4066 or 74HC4066 quad bilateral CMOS switches.

Clearly I have been more focused on the project than the contest today. (Mouser & Digikey got a lot of traffic from my QTH.)
I think that we have a large Aurora event on the way, shortly after the VHF contest ends, go-figure.
73 de NG0R