Q: How do you test your 432mhz transverter on CW & SSB?
A: You combine a SBL-1 + a signal generator attached to a HF rig
I have a 432mhz transverter that was not working properly.
I don't have a second rig with 432mhz SSB/CW.

Normally I test a lot of projects with N0FP but he currently does not have 432 weak signal gear.
The two other hams with 432 weak signal stations that I frequently test with were AWOL Sunday afternoon when I was looking to work on this project.
I decided to punt. I had four SBL-1 diode ring mixers sitting my office desk. They have been staring at me for several months waiting for my to get some time to start another homebrew project.
I dug up the pin out notes for the SBL-1 and soldered some short leads with BNC connectors.
I used my Wavetek signal generator as the LO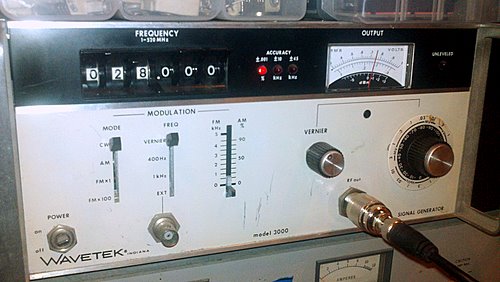 The IF port of the SBL-1 is connected to my Icom 756
The RF port is connect to the my dual band vertical on the HF. (Using it as a receive antenna for this test.)
I was able to transmit SSB and CW on my K2+XV432 on the VHF tower and listen on the Icom 756 on HF tower via an RF path. All-in-all it took about 20 minutes to setup the test once I decided to do it.
I have not worked on any projects with the SBL-1 in the past. Tonight's positive (and easy) experience with the SBL-1 mixer will likely drive me use it for some projects in the future.
73 de NG0R